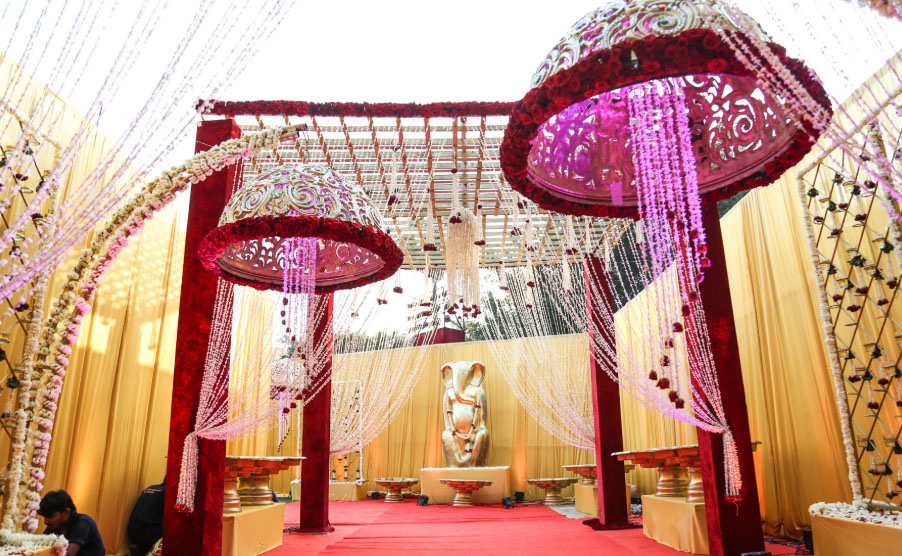 If you don't want the wedding to be soon forgotten by the guests, you should make it a unique and memorable event. Using themes for a wedding would be a great way to achieve this.
The concept of wedding themes is quite popular in the West for a long time. The individual preference of the couples determines the theme. However, in India, all things are handled by parents and the role is less in India. Wedding planners in Chennai confirm that it is the parents of the bride or groom who approach them requesting their service.
One difference in India and western wedding is that parents of brides and groom play the major role in planning and coordinating the wedding while parents have not that much role when it comes to the wedding in western societies.
Nowadays, brides and grooms in India insist on having a theme for their wedding. This thought has occurred to some parents also because it is a great way to make the wedding a unique event.
However, the trend of wedding theme has become quite popular in India recently. Here are a few theme wedding ideas if you are searching for one. If you want to have a theme wedding but don't know which theme to choose, this article may help you.
Beach Wedding
Beaches are a significant element in the culture and lifestyle of Chennai people. The famous Marina beach which is the second longest beach in Asia is politically and culturally important for the people in Chennai. It would be a great experience to conduct the wedding ceremony in the white sands of the beach in front of the roaring sea. In western countries, a beach wedding is quite common.
You can set up wedding venue for the ceremony on the beach and gets married in the presence of a few selected guests. The land embracing the sea symbolizes the married life. The number of guests in the ceremony can range anywhere from 20 to maximum 100. After the ceremony in morning, you can have a party at a resort or hotel nearby. You can find many beach wedding venues and resorts in Chennai who will help you to have a beach wedding.
The best time for beach weddings in Chennai would be from December to February because beach wedding venues won't have any ceiling. Chennai beaches will be hotter than beaches in the western countries. Therefore, it is better to plan the wedding in the winter season.
Garden Theme
You can bring a garden inside the wedding hall. The walls can be covered with greens and put some small trees and plants inside the hall. Along with that bring some flower pots and make the area look like a garden. When the guests are walking into the hall, it would be like they are entering a garden and give a feeling of outdoor.
A garden theme can transform an indoor wedding into an outdoor wedding. You will need to buy lots of flowers and leaves would require lots of labor to arrange them to make it look like a garden.
You should remember that all wedding halls may not permit this so it is important to discuss this with the wedding hall managers before you book the hall.
Origami Theme
Although origami is usually associated with children's parties it is quite common to decorate the wedding venue with papers flowers and origami artworks. You can fix different kinds of origami artworks in bright colors on the walls and hang long origami and paper garlands across the wedding venue.
This is a budget-friendly theme because using paper flowers instead of real flowers for the decoration can save you a lot of money. Origami can be your best choice if you are thinking about distinctive Indian wedding theme decorations.
Traditional Theme
Back to the past is a great way to make the wedding an interesting event. The bride and groom can choose the wedding dresses used centuries ago and arrange the wedding venue in ancient style. You can also think about a hiring a vintage car for the bride and groom. Moreover, the decoration and food can also be given a traditional touch. This is the best way if you are looking for unique Indian wedding dress themes.
Valentines Theme
Valentine theme would be the ultimate and romantic theme suitable for a wedding. You can decorate the area with props, prints and other decorative items related to Valentine's Day. You can fix a big cardboard in a heart shape in red color behind the wedding ceremony area. Then you can fill the area with lots of small hearts shapes all over the area. Lighting, candles and additional decorations can be used to make a romantic atmosphere in the area.
Minimalistic Theme
This is a popular theme in the Western world. Those who don't want to have an extravagant wedding make their wedding minimalistic. You will not use lots of decorative items or varieties of expensive foods and beverages in a minimalistic wedding. Those who don't have lots of money to spend or who don't want to spend can choose this theme. This is a modern theme and becoming popular because of its social values.
Eco-friendly Theme
An eco-friendly wedding is a great way if you are concerned about the environmental degradation and want to send the message to your guests about the importance of protecting our environment. You can use eco-friendly and reusable items.
An eco-friendly theme wedding can inspire people to bring eco-friendly in daily life.
Rustic Theme
The term rustic refers to the rural life. A rustic wedding can be organized in outdoor venues in a rural area or by incorporating rural and natural elements in the decoration of the wedding venue. This is a kind of eco-friendly theme. The popularity of rustic theme is increasing in India due to the raising awareness of the environmental crisis.
This theme is a kind of escaping from the modern world into the simpler rustic life. You can use DIYed decorations. It is also possible to serve home-made food to the guests. The wildflowers and other natural elements can be used for the decoration.
The list doesn't end here but these are the few general theme wedding ideas for suitable in India. You can get inspirations from these and create a unique theme for your wedding.